Overview
We take a closer look at the Calendar Interface's new Items to Display option Reminders, and the functionality and use cases it was designed to tackle.
The Divvy Details
Looking to notify your team you will be out of office soon? Maybe there is an appreciation week that is related to an upcoming campaign and it needs to be front and center on your calendar. Do you need to show a spanning event on the calendar and creating a campaign doesn't make sense? Or maybe, you just want EVERYONE to know what day your birthday falls on. Okay, okay, you get the idea, the Reminder feature can cover a lot of scenarios so let's dig in and see how you create one.
Creating a Reminder
If you've been a Divvy user for awhile then creating a Reminder will come naturally. If you haven't, it will still come naturally. On the calendar interface, if you hover over a particular date of a day, two options will show. To your left will be one of the many ways you can add a content item, via the +Content link. Now, with reminders, we add a new hover option to the right of the date, +Reminder. Click the +Reminder option to pull up the Add New Reminder overlay.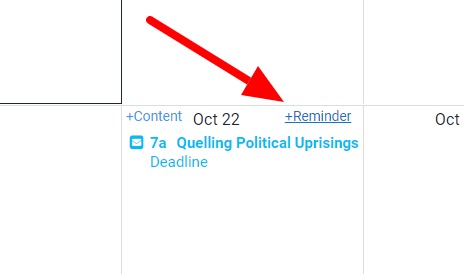 Add New Reminder Overlay
The Add New Reminder overlay provides you with the following editable fields and options:
Reminder Name - the display name that will render on the calendar interface once the Reminder is created.
Start Date - the first day the Reminder will start on once created on the calendar interface.
End Date - the last day the Reminder will span to on the calendar interface (can be the same date as the Start Date)
Make Public - by default, Reminders will be public to all users. Toggle this to make the Reminder private and only visible to you.
Color - pick the color that you want your Reminder to have on the calendar interface
The Add New Reminder overlay will automatically be populated with a Start Date and End Date based on the day you clicked the +Reminder link from.
Displaying Reminders on the Calendar Interface
To see the Reminder you just created make sure you have the Reminder option selected in your Dates to Display dropdown.
With this option turned on you will be able to see the Reminder you created as a spanning event with the Reminder icon to the left of the title.
Reminder Permissions
Only the creator (owner) of a Reminder may edit its settings after it's been generated. Others will see it as a spanning event on their Calendar Interface unless the Reminder was set to Private, then only the owner will see it on their calendar interface in that scenario.
Now that you know how to create a Reminder, get to it!