Overview
If your team is accustomed to collaborating and sharing assets via one of the many cloud file storage platforms, Divvy provides native integrations to allow users to easily attach files from Box, Dropbox, Google Drive, MS OneDrive for Business, and the online version of MS SharePoint.
The Divvy Details
Prior to this cloud storage integration, attaching an asset to a content item required the user to upload the file to DivvyHQ's servers. Then retrieving the file required that the file be downloaded from Divvy's servers. In essence, you were saving or downloading a copy of a file that already lived on your computer, internal file server or cloud storage platform.
These cloud storage integrations eliminate that upload/download process altogether by just attaching the sharable hyperlink to a file that already resides in your cloud storage platform.
Below is a quick walkthrough on how to authorize your cloud storage provider to work with DivvyHQ, as well as add an attachment after authorization has been given.
How to Attach a Cloud File
1. Open the content item (via the Sandbox interface or preview panel) and click the Attachments Tab.
2. Click the blue "Attach from Cloud" button

3. This will bring up the cloud storage platforms that are currently available. Select the platform with which you want to connect.
4. A new window will open asking for the login credentials particular to the integration you've selected.
IMPORTANT NOTE: Connecting to an MS SharePoint drive require a few more steps. Please see our knowledgebase article on configuring this integration.
5. Once logged in, you'll be returned to a file browser overlay within the Attachments Tab.
6. To navigate into a folder, double click. Or, click the magnifying glass to use the search option, to help narrow down the list. Once you've found the file you wish to attach, double click it to attach it to the content item's attachment tab.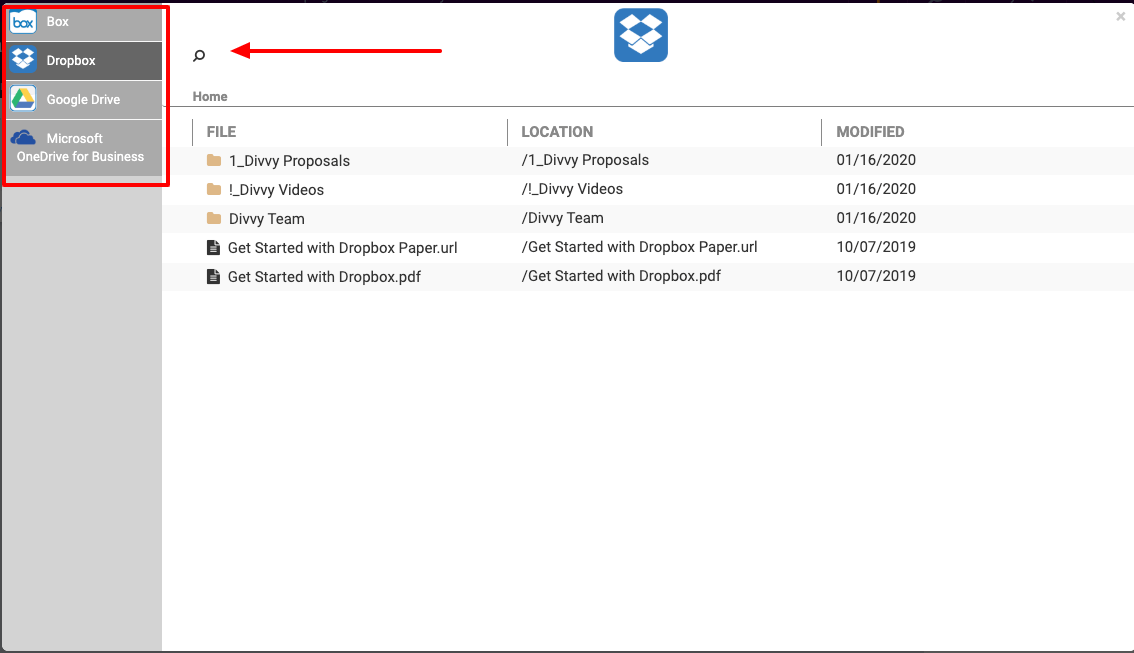 7. Your file will appear with a preview image within the Attachments Tab. You can download the attachment or, if it's a Google Drive document, right-click the download icon to open it in a new tab.
Important Note: Windows 8/7 users, who use Internet Explorer 10, will need TLS 1.2 enabled.