Overview
Getting started with our Add New Function feature and overlays.
The Divvy Details
Adding a Child Calendar (Lite or Pro)
Once you click the Add New Calendar button, an overlay will appear. Give your calendar a name and click Add Calendar (see figure 13). You're done! You can now go to your Calendar Admin and start customizing your new calendar.
(Figure 13)
Adding a Parent Calendar (Enterprise Only)
If you are a Global Admin on an enterprise accounts, when you click the Add New Calendar button, an overlay will appear (see Figure 14). Give your calendar a name and select the Parent option. Then click the Add Calendar button.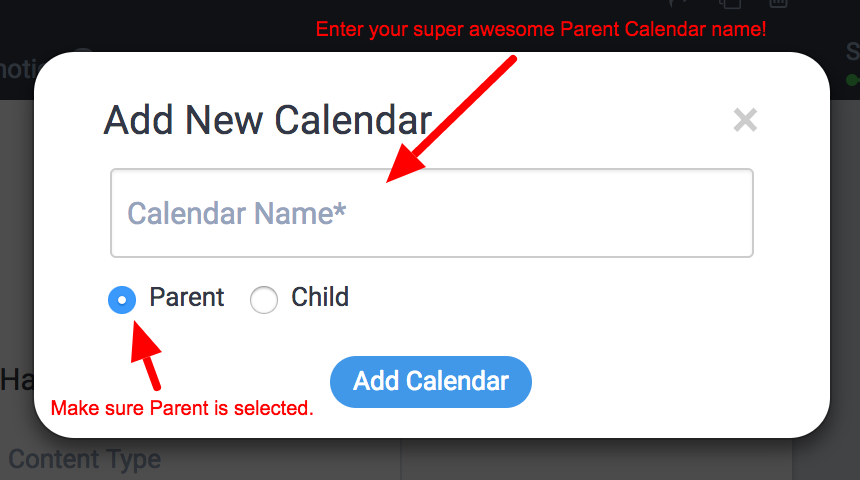 (Figure 14)
Adding a Child Calendar in an Enterprise Account
You'll follow the same process to add a parent calendar, but you'll select Child in the overlay/form. You'll also be prompted to specify to which parent calendar this child calendar belongs (see Figure 15).
(Figure 15)
Inviting Team Members & Reviewers
There are three ways you can add team members to your Divvy account.
You can use the persistent +ADD NEW drop down in the top right and select Team Member
You can go to the Team Members section located in your Profile menu (top right).
Or you can go to the Calendar Admin > Team Members tab.
Once there, click the orange Add Team Member button to display the Add Team Member invitation form. Fill in at least the required fields (First Name, Last Name, Email Address) and then click the green Add Team Member button (see Figure 31). If you would like the team member to utilize a Reviewer-only user seat, then select this option before clicking the Add Team Member button.
(Figure 31)
After you've clicked Add Team Member you will be presented with a screen that allows you to select the newly added team member's role on a per calendar basis (see Figure 32). If you selected the Reviewer-only option on the previous form, then you will only be able to give the new user Internal Reviewer or External Reviewer roles on each calendar. Parent calendar options are available on Enterprise accounts only.
(Figure 32)
The Add New Content Form
Ready to start adding content? Great! Click the green +ADD NEW button in the top right and select Content Item.
Within the Add New Content form (Figure 36), give your content item a title and a description (optional) that summarizes the item. Then select a calendar, a content type, an associated campaign (optional), Status, and the owner who will be responsible for this item. These values can be changed later if you're not sure about these details.
Adding Content Strategy (optional)
Once you select a calendar in the add new overlay you may also select rather you want to apply any content strategy associated to that calendar by selecting the Add Content Strategy box within the overlay. Selecting this option will expand the overlay, allowing you to select content strategy without having to enter the content item's Sandbox interface.
NOTE: To cut down on campaign clutter, the campaign drop down will only show campaigns associated to the selected calendar that are currently active or ran within the last 6 months. To add a campaign to a content item that falls outside of these parameters, add the content item and then associated it via the sandbox interface.
(Figure 36)
From here, you have a few options for saving the content item.
Clicking "Save"

will save the content item with a Planned status, so you will be able to locate the item later in the Planned view of the Content interface.
Clicking "Save and Edit" will open up the newly created content item's content item slide-in, in edit mode.
Clicking "Park It"

will save this content item in DivvyHQ's Parking Lot, the storage area for content ideas. You can go to the Ideas area to locate this item later.
Add a New Campaign Form
To create a new campaign, click the Add New button in the upper right, and click Campaign.
(Figure 60)
Type in your campaign a name and then select its associated calendars. If you have an Enterprise account you can select all the child calendars under a parent by clicking the parent calendar name. Since certain team members and content types are attached to specific calendars, this calendar selection ensures only those people will be able to see and manage content for this campaign.
Next, select a campaign type. Three campaign types are available, including:
Regular Campaign - promotions, discount offers, product launch, etc.
Event - a physical event, tradeshow or webinar
Content Theme - a certain time period where you'll focus on a specific topic
Lastly, select the campaign's start date and end date. When you're satisfied with these details, click SAVE. Your new campaign will now be visible as a spanning event on your DivvyHQ calendar, and available in Divvy's new Campaigns dashboard.