Overview
Learn the basics of the campaigns feature, and campaigns management.
The Divvy Details
Campaign Management
If you've been working in marketing or advertising for any length of time, you've probably planned and executed your fair share of campaigns over the years. But despite today's content marketing purists trying to steer companies and agencies away from the campaign mentality, reality dictates that most companies still produce a majority of their content to promote specific, time-bound programs and events.
To properly support this reality, DivvyHQ now provides a robust campaigns management area that will help you keep your campaigns, and their supporting content, more organized.
Add a New Campaign Form
To create a new campaign, click the Add New button in the upper right, and click Campaign.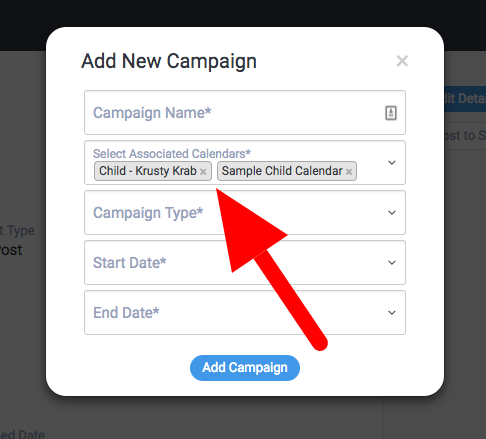 (Figure 60)
Type in your campaign name and then select it's associated calendars. Since certain team members and content types are attached to specific calendars, this calendar selection ensures only those people will be able to see and manage content for this campaign.
Next, select a campaign type. Three campaign types are available, including:
Regular Campaign - promotions, discount offers, product launch, etc.
Event - a physical event, tradeshow or webinar
Content Theme - a certain time period where you'll focus on a specific topic
Lastly, select the campaign's start date and end date. When you're satisfied with these details, click SAVE. Your new campaign will now be visible as a spanning event on your DivvyHQ calendar, and available in Divvy's new Campaigns dashboard.
Campaign List View
From Divvy's Campaign list view, you can view all campaigns that have been added into your account. You can also do the following (see Figure 60a):
Preview a Campaign

- A single click on an individual campaign will open up the content item slide in where you will be able to see and edit many details of your campaign. Such as the time frame, campaign name, and campaign duration. For a more robust view, you can double click the campaign which will lead you to the campaign details page.
Search

- The search box in the upper left allows you to filter down the campaigns list based on the Campaign's title.
Filter

- Use filters to locate campaigns based on date ranges, calendars, campaign types or campaign status.
Manage Columns

- Data columns can also be managed much like Divvy's Content interface.
Export - Export your campaigns to an XML or CSV file
(Figure 60a)
Campaign Detail View
To view or edit the details of a campaign, you can either click View Detail from the Campaigns list view, double-click a campaign from Divvy's calendar interface, or click the View Campaign Details option from the Campaign Slide-in. (see Figure 61).
(Figure 61)
DivvyHQ's new Campaign Detail View provides a much more robust set of fields to capture and manage your campaign details. By clicking Edit in the top right (see Figure 63), you can edit all campaign fields, including adding your campaign team and a campaign description (see Figure 62).
(Figure 62)
In the event that you want to Delete a Campaign, go to the campaign detail view and click the trash can icon in the upper right. Confirm the deletion by clicking Delete.
(Figure 63)
This interface also provides a full list of all content items that have been associated with this campaign, which can be exported via XML or .CSV, and printed. This should be a big time saver for checking in on the progress of current campaigns, or reviewing the performance of past campaigns.
Viewing Campaigns in the DivvyHQ Calendar
With DivvyHQ's campaigns feature, users will now see campaigns as multi-day spanning events on their content calendar (see Figure 61). By default, campaigns that span more than 14 days will be displayed at the top of the calendar, but anything shorter will appear inline on the calendar's associated dates. If you would like to see all your campaigns in-line on your calendar, make sure you toggle the "Display Campaign in-line" button. (see Figure 64)
(Figure 64)